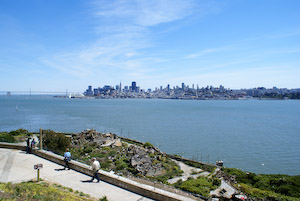 Hey there! Still looking for some news from the west coast ?! I bet you are, and i'll try to feed you. Since the Bay Area must be one of the most attractive area on the Californian coast, I've had a couple friends coming over to visit it! Right now you can probably feel how glad I am to be here !


Anyways, was a good opportunity to visit around once again. I only went to SF a couple times since I arrived. The menu: Alcatraz and Palace of Fine Arts. And on top of that, as ever, sunny saturday...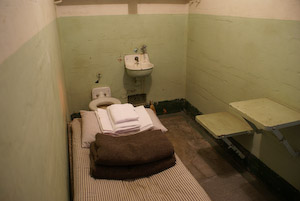 Ok, I have to switch into the geek mode for a moment ! Pardon me, but one of the pictures above terribly reminds me of a game I played a couple years ago... ok, maybe you have no idea what I'm talking about so i'll give you the answer you uncultured people

: I thought of Half Life 2 or Far Cry... ahem, I just lost credibility by talking video games but hey, what the hell...

!
You couldn't imagine how tight my schedule was to meet my friends and catch the ferry that would bring us to the island. I took the caltrain from mountain view to downtown SF and got there at 12h35. Considering the little hike i had to do to reach the pier, believe me, 25 minutes is not enough... But when you live in Tokyo for 5 months, you get used to catching taxis while running down a street and I finally got to the ferry probably a minute before leaving ! Of course, all that so you can enjoy these pictures

...
And here are some of the views you could get from the prison... who said it was a bad place to stay ?!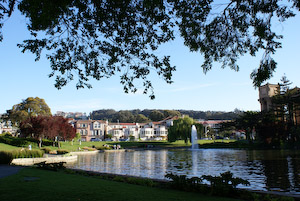 Alcatraz was definitly a place to go. You get a really interesting audio tour and get to see the prison very well. You can even get locked in a dark cell for a minute and try to get the weird feeling of it...
To keep on visiting, we went to see the Palace of Fine Arts in the Marina District, north of SF. Man, this is the kind of neighbourhood i wouldn't mind living in. Probably the most beautiful place i got to visit here, and trust me, a lot of them are...
As always, i'll finish the post with a nice sunset ! But since I was meeting some friends in SF, it's rare enough to put a picture of them. Thanks to them I got to visit a lot this day

!
To come, a trip to Las Vegas in two weeks, I'm flying there for 3 days, I hope i'll prevent myself from gambling too much... we'll see...