Home sweet home !! Yeah, after 5 months living among japanese, I'm back to France

! I almost forgot how french France looks

. But anyway, it's good to see the "motherland". Plus I get to see my friends here, it's been a while. So guess what my first meal was back to the cheese and wine country... Yes, an amazing raclette

おいしいぃ !! Gosh I love that, and of course with white wine...
Anyway, eventhough I'm back, I still have many pictures to show you. Today is about 渋谷 (Shibuya). I can hear some of you moaning back there cause yeah, again, 渋谷 ! But it's such a typical 東京 place. And plus, I liked hanging out there, so I came back one evening to immortalize this place through pictures...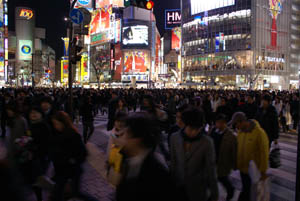 The most important thing in 渋谷 is the massive crowd constantly walking around. It feels like it never stops, you certainly must love crowded place to wander around. But the place remains impressively quiet while people are waiting for the green (blue for some people

) light. Everybody is patiently waiting; you'd never get nudged or pushed. But when the green (or blue... sorry, private joke) light shows up, the whole crossing gets from empty to black of people in an instant. The patient pedestrians are now actively heading toward their goal, trying to look more busy than their neighbors... Yes, on top of being a great shopping place, the place is also crowded with employees, 渋谷 being a major business district.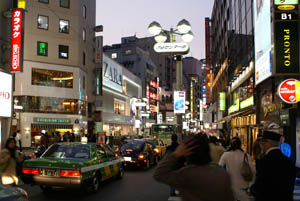 Above stands a picture of the most known building around shibuya station: the 109 ! It's actually a giant shopping mall with some of the most fashion shops for clothes, shoes or anything in Tokyo. You must already know that Japanese love fashion... well, I can't deny it, it's as strong as religion for some countries ! Actually for most of the Japanese, good tastes in clothes is something you're born with... or maybe marketing is massively working... you decide...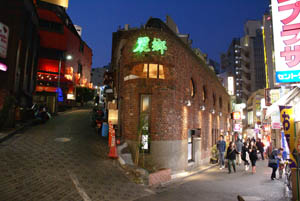 And if the streets seem too busy, crowded and tiring.. You still can get lost in the tiny streets around. Mainly full of restaurants, those streets are the charming side of 渋谷, where the improbable is possible: quiet places next to one of the biggest artery of 東京. But you would say that this area lacks some fun... there you go, Shibuya is one of the major night life neigborhood in Tokyo. There is everything there to live an exciting life... ok, as long as you like fashion and night life
! Anyways, definitly a place to check out when traveling around... Personnaly my favorite one in 東京 !